Nemosub has arrived in Porto Azzurro on Elba Island, a destination worth to be visited both above and under his crystal-clear sea. Nemosub allows you to see the depths of the sea near the coast to explore marine wildlife even if you are not a scuba diver. Moray eels, starfishes and octopuses are only a fraction of the fauna that you can see while being in the comfort of our cabin with air conditioning on.
The rocky nature of Elba's depths guarantees that waters are always clear from clouding caused by movement of the sand.
Nemosub is a semi-submarine, this means it doesn't dive under water. The upper part of Nemosub stays above sea level so our clients can take the liberty to go out of the cabin to observe the wonderful colors of the Island at any time.
Nemosub is equipped with a strong underwater lighting system that allows our clients to see the nightlife of Elba's depths without missing anything.
Nemosub is not a fast craft, this is what allows to see clearly every bit of underwater life.
Prices: € 20 adults from 13 years old, € 15 3-12 years old
Free:

0-2 years old
Tour time:

40 min
Tour area:
we sail towards Barbarossa Beach or along the coast close to Forte Focardo but the itinerary can change depending on the wind direction.
Departure times
(time approx and weather permitting)
| | | |
| --- | --- | --- |
| 10:00 | 17:00 | 21:00 |
| 11:00 | 18:00 | 21:50 |
| 12:00 | 19:00 | 22:40 |
| | 20:00 | 23:30 |
| | | 00:20 |
During the night the sea has less boats moving so the fauna is more active. However, given the nature of the depths, it might be possible that not every fish nest is visible.
During the day, sunlight ensures more visibility in every bit of depth but there might be less fauna to see.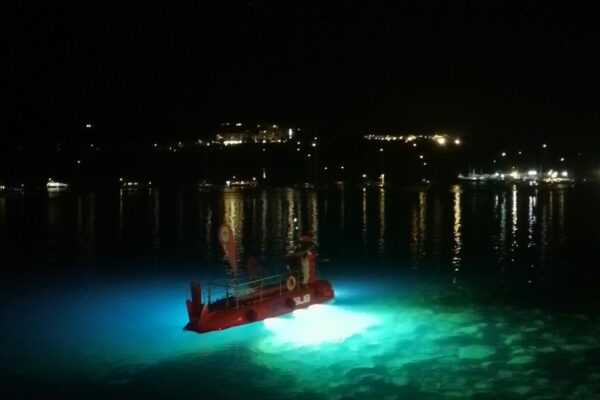 Contact us to learn more about our private tours at custom departure times.